Brian Graydon | Apr 21 | 2 min read
Why It's Time To Upgrade Your Resistor Trimming System
Upgrading laser processing systems is an investment in the future, but it is a capital expense that is challenging for many companies. It usually ends up being a balancing act of keeping older equipment running through maintenance and service without waiting for the system to fail beyond repair, creating unplanned downtime. If you know the equipment isn't going to last much longer, it will pay off in the long run to replace it before it causes big problems.
Reduce Costly Upkeep and Repairs
There is a broad range of issues that occur as equipment approaches the end of its lifespan. Old systems have a tendency to require significantly increased levels of maintenance, and create the risk of production halts to perform repairs.
Manufacturers may have limited or no support for out of date systems, offer limited access to support and documentation or have minimal inventories of replacement parts. This may lead to extended downtime for the system with the resulting reduction in production volumes.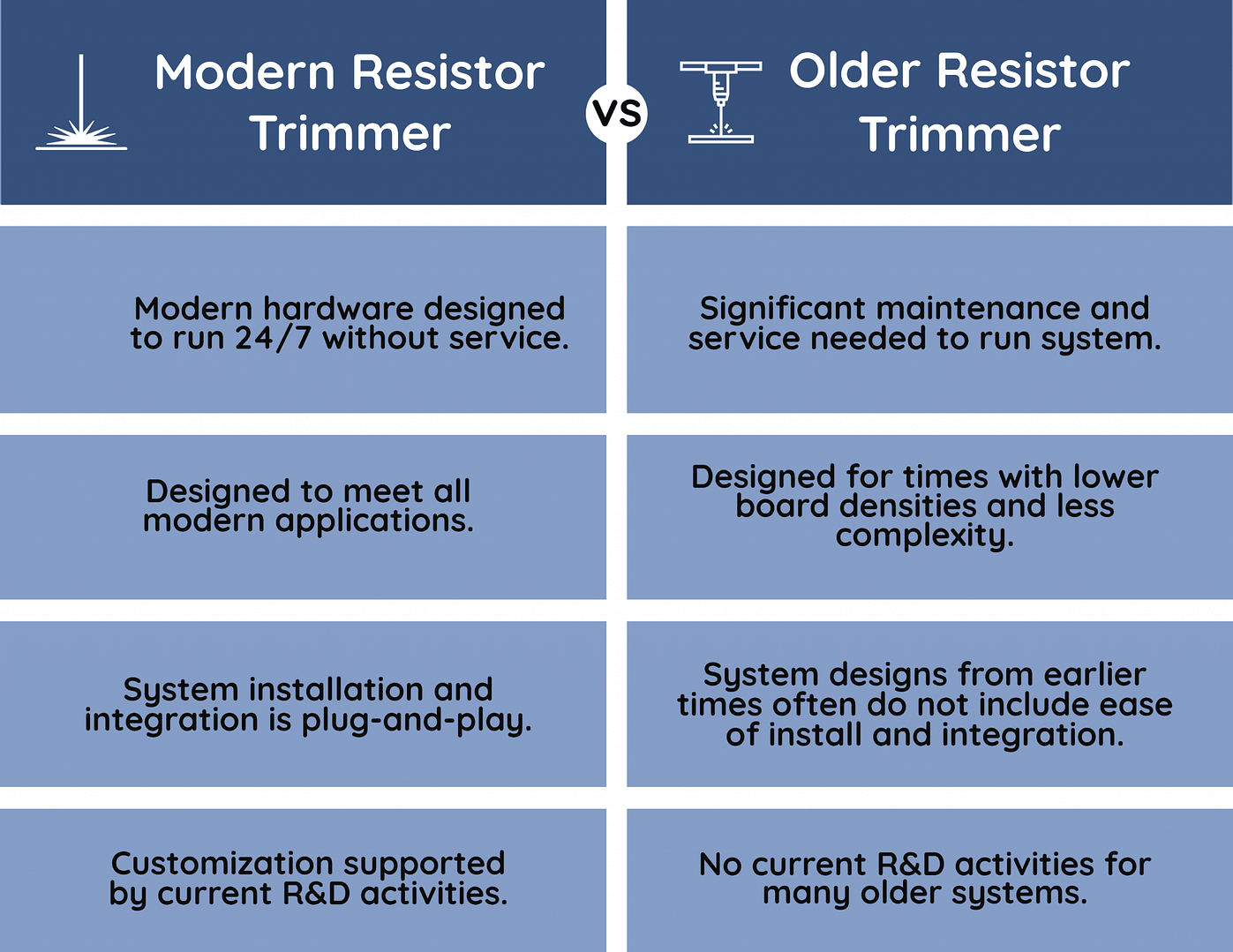 Equipment reliability has a direct impact on productivity and manufacturing costs. If the equipment is not available for manufacturing, material cannot be processed and expensive equipment is underutilized. Obsolete equipment in many cases cannot match product quality and rate of output of more modern systems that can provide increased yields. In addition, modern systems are well supported with stocked parts and up-to-date service options not available to discontinued systems.
Further, modern software is designed to feed back information on service events, job quality and calibration information as well as communicate remotely allowing users to monitor systems from anywhere.
As specifications for PCBs and circuit boards constantly change, systems must be designed to meet specifications based on density of circuits, test pad location as well as substrate size. Characteristics include:
Higher speeds for high volume production

Up-to-date software and hardware options

Industry 4.0 ready

Cost reductions and efficiencies

Highest possible yields and volumes
Modern systems also have the ability to combine some operations or add new production options needed for new applications and specifications.
As new systems are added to production facilities, the importance of easy integration as well as ease of use for operators and process engineers is critical. Systems must be plug-and-play with intuitive software interfaces.
New system designs require minimal installation and setup with well organized software for easy job creation and process control. Initial job setup can be done prior to delivery with the jobs used for system acceptance testing. Once delivered, remote connection features make it easy for technicians to perform on-the-fly training and support.
As the complexity of laser trimming applications increases, demand for more customization options such as handling, robotics, and external instrument support has gone up as well. PPI Systems has a robust R&D and engineering group that works to create unique, efficient options for the RapiTrim laser resistor trimming systems. These include:
Load and unload stacks located in the front of the system

Slipsheet handling

Switching matrix for expanded signal routing functionality for active trim and specialized measurement applications.

Automated probe tip changing

Barcode or 2-D matrix code reading

External instrument support for passive and active trim

Process sequence customization
The days of "one size fits all" are over, modern manufacturers more and more are requesting systems designed today to fit unique features demanded by their customers.
PPI Systems is a leading supplier of laser-based material processing test and inspection systems. The company provides a broad range of turn-key solutions to the interconnect and electronic component market for via drilling, circuit processing, trim and test, and high-precision micro-machining.